Watch our 2014 tornado highlight video below!
Chase with us in 2015 on one of our storm chasing tours!  If you are looking for an adventurous trip, tracking down some of mother nature's most violent thunderstorms, then you have come to the right place.  If you want an exciting chase experience, interested in learning about the atmosphere, and want the best chance to witness severe weather and tornadoes, then we are the tour guides you've been looking for!  We have years of chase experience and know how to get you a front row seat to extreme weather, while keeping you safe.  Brandon Ivey and Marcus Gutierrez have both been featured on Discovery Channel's "StormChasers" series and in the IMAX film "Tornado Alley".   Brandon holds a degree in meteorology and has been chasing severe weather for over half his life.  Marcus is a Navy trained medic and your safety is his top priority.  Thanks for visiting our site and we hope we get the chance to show you some amazing storms this spring!
We welcome any media outlet or production crew to join us on any of our tours. It doesn't matter if you are a national news network, a local news station, or a production company. If you are looking to collect footage for a weather related story or would like to do a story on our tour company, contact us and we will get you the shots and story you need. We have worked with multiple outlets both on and off camera. A handful of those are listed below.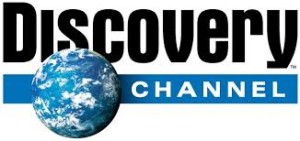 Brandon Ivey and Marcus Gutierrez were both featured on the Discovery Channel's "Stormchasers". As you can see, we have a proven track record to get you into perfect position. Check out a few of our videos below.
***We will not be intercepting tornadoes in tour vans. We will be observing tornadoes from a safe distance.***
http://www.discovery.com/tv-shows/storm-chasers/videos/tornado-beauty.htm
http://www.discovery.com/tv-shows/storm-chasers/videos/a-hidden-monster.htm
http://www.discovery.com/tv-shows/storm-chasers/videos/take-cover.htm
http://www.discovery.com/tv-shows/storm-chasers/videos/first-3-d-tornado.htm
http://www.discovery.com/tv-shows/storm-chasers/videos/tornado-whimsy.htm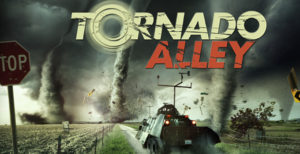 Brandon and Marcus both appear in Sean Casey's IMAX movie "Tornado Alley" and both were highly instrumental in forecasting and positioning the tornado intercept vehicle (TIV2) to allow Sean to obtain many of the storm shots that are seen in the movie.

Marcus participated in an IMAX filming expedition at Mount St. Helen's in October of 2004, which was threatening a volcanic eruption at the time. His work filming for National Geographic during this time landed him a full page article in fortune magazine. A year later, Marcus was featured in a 1 hour documentary by National geographic TV entitled "Tornado intercept" released in the fall of 2005. His role on this TV Documentary was driver of TIV 1, rescue medic, and mechanic.
Brandon Ivey has been shooting professional news footage since 2005 for local and major news stations. Marcus and Brandon have both done live interviews on local and national networks. A few of these networks are listed below: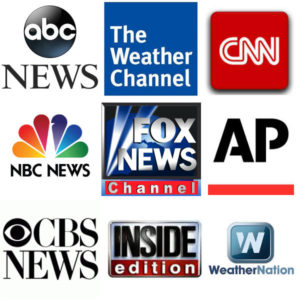 As you can see, we not only have experience forecasting and chasing severe weather, but we have the experience your crew needs to help shoot and tell the story correctly. We work professionally with any and all clients while keeping your field crew safe.